'Eclipsed' By Danai Gurira Directed By Warona Seane Showing At The Soweto Theater 14 - 31 August 2014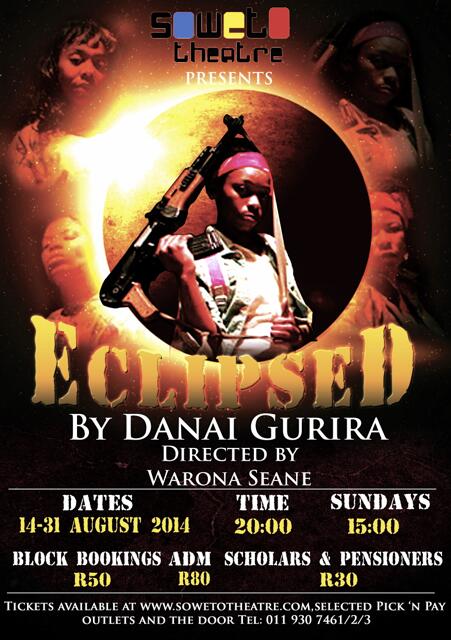 Eclipsed
is a play written by Zimbabwean actor and playwright ,
Danai Gurira
. The play is set about Liberia's long civil war, a story of women who have been abducted and made "wives" of a rebel commander, live together. Despite being set in war-torn Liberia, each woman finds a different way of surviving against all odds.
Danai says the inspiration for
Eclipsed
came from a photograph one of her professors showed her when she was in graduate school. The picture, which ran alongside a New York Times article about women in Africa, showed a female fighting unit.
"I didn't know anything about women fighters in African wars," Gurira tells Jennifer Ludden. "And just to see these women standing there, you know, in their jeans and ... fashionable tops and their hair is all done, and they're all carrying AK-47s, was just an image I couldn't get out of my head."
Join South African actress
Warona Seana
as she takes center stage, directing this fascinating story from 14-31 August at the Soweto theater.
Show times
Tuesday-Wednesday: 11am
Thursday: 11am & 8pm
Friday and Saturday : 8pm
Sunday: 3pm
August is known as women's month; the timing couldn't have been better, with an African story by a strong African woman about resilient African women of Liberia. The story tells more of women's contribution in situations like wars which most of the times is not told.
For more details click
here
.