Bring Back Our Girls! Borno School Girls Abducted By Boko Haram
It has been two weeks since over 200 girls were abducted in the Chibok region of Borno, Nigeria by terrorist group, Boko Haram.
#BringBackOurGirls
has been trending and continues to trend calling for people to raise awareness of what is currently happening and asking the Nigerian government to do more, to ensure a safe release of the girls.
The abduction has sparked public concern on the continent and world wide. Thousands of people including celebrities are calling on
Boko Haram
to release the innocent girls. There has also been several protests in Nigeria campaigning to create awareness on the current situation where one million women marched for the release of Chibok School Girls.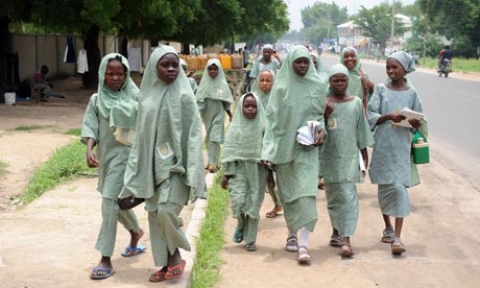 Since the incident occurred, various reports have emerged about the girls being moved abroad. It is alleged that they have been married off for N 2,000 each to members of the group in Chad and Cameroon.
In a recent statement released by the hostage negotiator, it is alleged the girls are safe with kidnappers demanding a ransom.

These are such trying times for the missing children's parents. Can you imagine the heartache they've had to endure for the past two weeks and still counting?! I mean, these are innocent souls used by the Boko Haram sect for their own gain. It is a harsh cruel harsh world we live in.


While you're on social media, please spare a moment to hashtag 'Bring Back Our Girls' and be part of the campaign. Get involved. SPREAD THE WORD!